Breeding of oldkladruber horses – family studfarm Dobrovský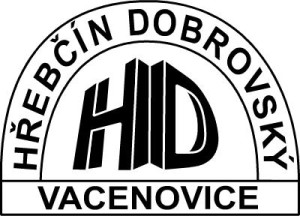 was founded in 1986 in neighboring town Vracov. We bought two mares from National Stud Kladruby nad Labem, two years old black from family "E", and they were prepared for breeding.
The expectations of breeder Ladislav Dobrovský were not fulfilled. The mares did not match the breeding goal, they were sold as 5years old and all the breeding work started from beginning.
Again two mares were bought from National Stud, they were mated with oldkladruber stallions, and the expectation begun again…
The goal was achieved, the offspring fulfilled the ecpectations and after next five years the herd has grown with few more broodmares, this time from own breeding proces.
So the time went on, mating, pregnancy, birth, growing up of new foal…
Year by year we were trying to help saving this exceptional horse breed, which for long time is considered a very exceptional and special, with good body constitution, able to work hard and live long without any sign of age.
Mare having healthy foals in the age of 20 ar quite usual. Even the horses at higher age are very sound and have good limb, which show the strenght of this exceptional breed.
Untill now we breed the oldkladruber horses, based on deep knowlesge of the main breeder, Ladislav Dobrovský.
Currently we have in our studfarm both white and blavk kladruber broodmares and also breeding stallions are in both colors.
From 1986 till 2013 we bred 181 horses.
In 2003 we moved to village Vacenovice, were new breeding place was bulit, and year by year we are trying to help kladruber breed by breeding new quality horses. Few licensed breeding stallions come from our studfarm, as well as many broodmares.
Our horses live in large fields most of the time whole year, of course the get hay and fresh water all the time and maximum care. Beautiful nature, forest and fields around are giving us lots of opportunities for beautiful walks and rides.